Organized Family Command Center
I made an organized family command center (without buying anything new)!
What do you already have at home that you can use?  Get started today!
I've been thinking about making a Command Center since we moved into our house (ummm… that was 5 years ago) So, what was the problem?  I never got started because it was overwhelming. Well thanks to Momof6 Get Your Life Organized Boot Camp I finally got motivated. Sharon – thanks for the great tips!
Command Center How To:
Decide what things you want featured in your command center. Check out my organization inspiration board on Pinterest.
Gather your supplies
Plan your layout, measure twice!
Print documents
Hang Frames
USE your command center daily! It doesn't do any good if it isn't functional, adjust as needed.
My Command Center Supplies:
Hanging on the walls
Family Photo
Family Motto / Mission Statement – Ours spells SMITH FAMILY
Initial – wooden letter from Hobby Lobby, I covered it in scrapbook paper using double-sided tape and outlined it in Sharpie
Family Calendar (click here for free PDF printable) 16×20 Frame
Cleaning/Home Checklists (free PDF printable) 2 4×6 frames – Daily and Weekly/Monthly
Babysitter Checklist from imom – 8×10 frame – I printed my own header and taped it on top
Blank Menu for Meal Planning (click here for free PDF printable) – 8×10 frame
Last Name Painting – http://www.nameoftheangel.com
On the counter top
File Organizer – Oxford DecoFlex Letter Size Desktop Hanging File
Hanging Folders (labeled Bills to Pay, To Do Immediate, To Do Future, Meal Planning, Coupons, School)
Small Spiral Letter Holder
Post Its, pens, pencils, notepad and dry erase markers with erasers (to write on the glass of the frames)

Cabinet
ClosetMaid 2-Door Organizer – Espresso (I added my own knobs)
Right now this cabinet has snacks for the kids organized into dollar store bins (I recycle all of the packaging as soon as I get home from the store, it takes up a lot less room!) I might relocate the snacks and do something else with this space.  Ideas?
Random notes:
I used Bookman Old Style and Simply Gorgeous fonts
Scrapbook paper is discontinued. I used "My Mind's Eye BH Backyard adventure" for the initial and BasicGrey.com Periphery for the calendar background.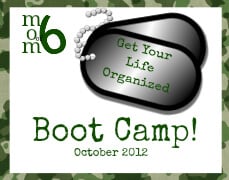 Stay tuned as I continue with the Get Your Life Organized Boot Camp. You should join!
p.s. Downloads are free, but I would love it if you'd leave me a comment! Follow me on Pinterest too
Thanks for joining me on my 4 week journey: Get Your Life Organized Boot Camp.
Click each week to see my progress!